by Steve Horn
In 2005, with the generous support of the Island community, I completed a book of photographs and essays, Pictures Without Borders: Bosnia Revisited, which narrates the story of my return trip to the Balkans after thirty years in search of places and people from the past.
My original 1970 trip was a field study project sponsored by Amherst College. I set up a VW bus as a home and darkroom. When it got cold outside I slept with the chemicals in my sleeping bag to keep them from freezing.
On my return in 2003 I packed extra copies of the old photos and retraced my route. I was able to locate children who had appeared in those first photographs, now adults with families of their own. For some, the photos became their only childhood pictures.
I was called back to Bosnia by an instinct to share photographs with people who were cut off from their past, and I wanted to reach out in friendship at a time of increasing American isolation.
On a beautiful fall day beneath ancient castle walls I witnessed the friendship that arose in sharing photos with people who had lost all physical record of their past, and in that moment I had a sense of what world peace might feel like.
Photography seems to be my way of trying to prevent what I care about from vanishing.
---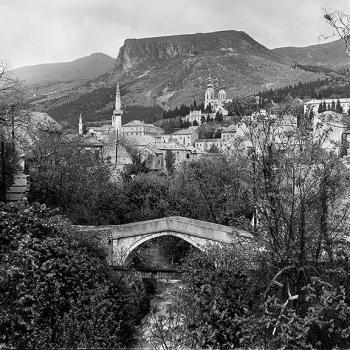 Kriva Cuprija Bridge in Mostar, Bosnia, 1970. Built in the 1500's, the bridge was damaged in the Bosnian war and washed away by a flood. Much of the old section of Mostar in the background was heavily shelled during the war as well.
The bridge and some of the city has been rebuilt, but the Orthodox Church in the distance is still in ruins.
---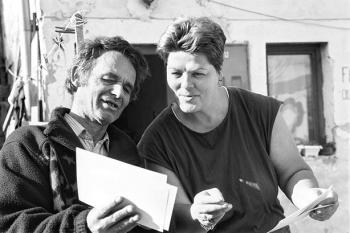 Sedjad and Sefika looking at photographs from 1970. Jajce, Bosnia 2003.
---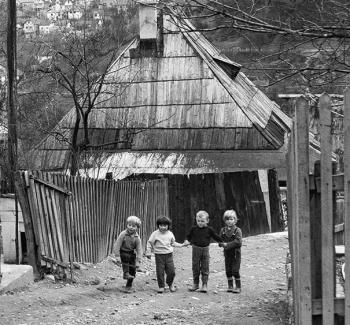 From left: Samir, Sefika, Vernes, and Aida playing in the streets of Old Town Jajce, 1970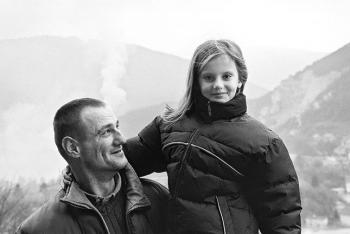 Vernes (pictured as a boy of 5 in the previous photograph) with his daughter Nadja in Old Town Jajce, 2003
---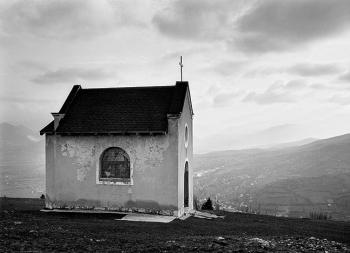 Chapel in the hills overlooking Travnik, Bosnia, 2003
---
Pictures Without Borders: Bosnia Revisited is published by Dewi Lewis Publishing, in association with the Bosnian Institute. It is a sponsored project of A World Institute for a Sustainable Humanity (A W.I.S.H.)
ISBN#: 1-904587-20-8 $ 30. Hardcover www.pictureswithoutborders.com
Available from neighborhood and on-line booksellers, or the book web site.